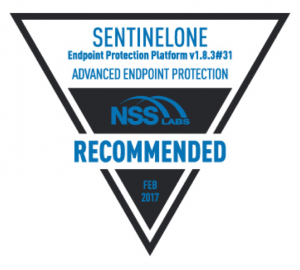 Ya venimos anunciando el ABSOLUTO CAMBIO POSITIVO que ha sufrido SonicWall desde la salida de DELL y la adquisición por Francisco Partnerns una de las más importantes empresas de transformación de capital para empresas tecnológicas, que ha obrado el milagro de impulsar a SonicWall a donde se merece y donde los INCONDICIONALES como Ingens Networks S.L. siempre hemos deseado ver.
Sonicwall + SentinelOne
Con las nuevas y mejoradas estrategias, como el ya premiado sandbox CAPTURE ATP, con la innovadora tecnología de veredicto en cloud. SonicWall dio en el último Q3 de 2017 el paso de unirse a SentinelOne, la considerada según GARTNER en 2017, como la empresa más visionaria en materia de protección y detección de amenazas. Recibió también la distinción de NSSlabs RECOMENDED, siendo NSSlabs la empresa con más prestigiosa del mercado en materia de seguridad técnica y evaluaciones independientes.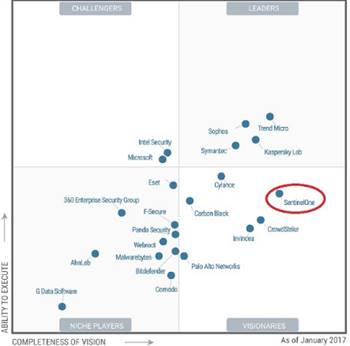 Estos podrían ser los aspectos más destacados del producto SENTINELONE:
100% tasa de bloqueo para malware y exploits en las seis categorías verificadas por NSSlabs (IMPRESIONANTE)
Mejor ROI (retorno de la inversión) en Security Value Map
99,79% de eficacia en seguridad
Cabe destacar que SENTINELONE es la única solución Next-Generation EndPoint Protection que combina en la misma plataforma prevención estática avanzada y detección basada en el comportamiento dinámico, esto viene a introducir el MACHINE LEARNING como nuevo GAME CHANGER, y junto con SONICWALL, van a generar un TANDEM muy singular, en el que cualquier equipo que tenga comportamientos extraños, podrá ser controlado y contenido por la solución, antes de que pueda afectar al conjunto de la organización.
Además, la solución ya equipa desde su 2015 un rollback para los files que pudieran ser afectados en la misma máquina que sufra la infección de ZERO-DAY, de forma que mientras se detecta y modifican los archivos locales que acabarían generando las decisiones del cliente SENTINELONE, el mismo restablecería todo lo modificado, con el importante ahorro de tiempo y tranquilidad.
La visionaria tecnología ENDPOINT SentinelOne , quedara completamente integrada en el ENDPOINT de Sonicwall SMA (Secure Mobile Access), creandosin duda uno de los buques insignia de Sonicwall, dado que con un solo ENDPOINT vamos a poder tener las funcionalidades de :
CAPTURE ATP local (con evaluación cloud como GW)
SENTINELONE (detección amenazas)
Geo IP Detection and Botnet Protection protect against DDoS
Content Filtering
Web Application Firewall
High Performance Lasyer3 SSLVPN Client
SMA enables single sign-on (SSO) to traditional AD
El 15 de Abril sale a la luz oficialmente esta nueva versión de SMA con SentinelOne, y en Ingens vamos a probar antes la solución, para poder dar el valor añadido correspondiente a sus clientes.
Os esperamos en el POST REVIEW.