Buenos días, ya estamos otra vez en este IngensPodcast que hoy cumple 10 programas, no es mucho pero son 10 semanas juntos, ¡y esperemos que solo sea un inicio!
Hoy me acompaña mi compañero Marc Barbeta, técnico de sistemas en Ingens Networks, ¿Qué tal Marc?
Bueno, hoy hablemos un poco de marcas, de empresas y como saber que producto o servicio elegir para nuestros proyectos de TI, pero antes mi compañero Xavi Suñé, nos ha pasado una información muy interesante sobre este mundillo.
Resulta que la empresa Dell, un gigante del mundo informático y del hardware ha adquirido a VMware (recordemos que ya había comprado a SonicWALL y a EMC) y lo hacen saber con esta nota, leemos un extracto:
Estimado(a) partner de VMware:
Dell Technologies ha anunciado hoy la mayor fusión en la historia del sector de las TI, un acontecimiento verdaderamente histórico. La nueva empresa posee sólidas capacidades en las áreas de más rápido crecimiento, como la cloud híbrida, el centro de datos definido por software, la infraestructura convergente, la plataforma como servicio, las técnicas de análisis de datos, la movilidad y la ciberseguridad. Como dijo Aristóteles, «el todo es mayor que la suma de sus partes», y esta adquisición pone ese «todo» a disposición de nuestros partners y clientes en común.
Seguramente que ha pillado a alguno por sorpresa, pero en el caso de Ingens Networks, esta adquisición, así como las de SonicWALL o EMC en su momento, no representa más que la simplificación operativa, ya que todas las marcas mencionadas anteriormente formaban parte de nuestras alianzas tecnológicas. De todas formas habrá que estar atentos.
Y ahora viene el tema de este podcast; que levante la mano el que cuando busca documentación sobre alguna empresa o servicio, lo primero que se encuentra es con esta frase:
"Empresa líder en su sector…"
Es casi imposible no hacerlo, todas las empresas dicen ser líderes de sus sector, y quizas en algun aspecto lo sean, pero ¿cómo saber si ese producto o servicio es realmente el mejor o más idóneo para tu negocio? ¿En qué parametros podemos basarnos? Y ¿De quién fiarnos? Muchas veces el "prestigio" de las marcas no se corresponden con la realidad de su producto/servicio y se sobredimensionan con grandes inversiones en marketing y agresivas campañas de publicidad.
Pero en el mundo de las TI, que es el que nos toca, existen desde hace años diversas voces de referencia, las más conocidas son Forrester Research, en cuanto a las tendencias de mercado y Gartner sobre productos y servicios, en este programa hablaremos justamente de este último, hoy en IngensPodcast el Cuadrante mágico de Gartner.
De la Wikipedia:
¿Quién es Gartner? Pues una empresa consultora y de investigación de las tecnologías de la información con sede en Stamford, Estados Unidos.
Proporciona el análisis de investigación y el consejo para profesionales de las TIC (tecnologías de la información y la comunicación), empresas de tecnología y la comunidad de la inversión en varios formatos: reuniones informativas, servicios de pares en red (peer networking service) y programas de socios diseñados explícitamente para CEOs y otros directores ejecutivos.
Utiliza para presentar sus análisis los conocidos como Cuadrantes Mágicos y los ciclos de sobreexpectación (hype cycle).
El Cuadrante mágico es, en palabras simples, una serie de ranking de empresas tecnológicas representadas en un gran cuadro, dividido en 4 cuadrantes. Este ranking resume un profundo y detallado análisis, elaborado por los profesionales de Gartner, este dosier está disponible a la venta y representa una ventaja considerable a la hora de tomar decisiones estrategicas.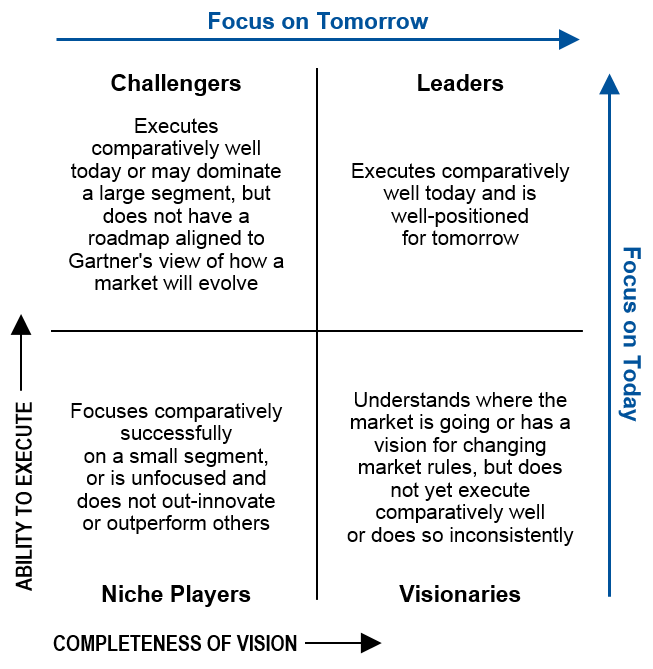 Source: Gartner (January 2016)
Volviendo al gráfico, tenemos un eje X definido como "Completeness of vision" donde lo que se analiza es la capacidad de las marcas de aprovechar el marco de mercado actual para anticiparse y generar valor a sus clientes.
Y un eje Y "Ability to execute" que analiza la agilidad y flexibilidad de la empresa, si es capaz de ejecutar su visión del mercado y el grado de éxito de sus productos. Así como su capacidad de reaccionar frente a los clientes con mejoras, actualizaciones y nuevas funcionalidad de sus productos.
A Partir de estos puntos de tenemos los 4 grupos de empresas:
Jugadores de Nicho: Esta categoria engloba a las empresas que no puntuan lo suficiente para moverse a otros cuadrantes, no quiere decir que una empresa de este sector deba ser rechazada, puede ser una nueva empresa con potencial que explotar y temrinar consolidandose como visionario o retador. Puede ser una buena solución para algunos proyectos, si lo que se busca no es muy complejo.
Visionarios: Proovedores con buena visión de mercado, aunque no son capaces de responder tan rapidamente a las variaciones del mercado actual, sus productos pueden satisfacer necesidades con un gran potencial de mejora ejecutiva.

Retadores o aspirantes: Al contrario de los visionarios, carecen de una gran visión a largo plazo, pero sus productos se encontran consolidados y por lo general generan una buena relación relación sus clientes.
Líderes: Es la mejor categoria, puntua alto en ambos ejes, es aquí donde todas las empresas quieren estar, poseen una gran visión, proyección y son capaces a nivel de infraestructura de mejor continuamente sus productos. La empresa goza de buena salud.
¿Qué tan fiable puede ser este ranking de Gartner?, bueno digamos que empresas como Microsoft, Cisco, Dell, EMC, Veeam Software y en general cualquiera que destaque en algún aspecto, está encantada de exhibir su posición en este cuadrante.
A pesar de que esta guía de Gartner busque la objetividad y parametrizar las fortalezas y debilidades de las empresas, no debe ser tomada como la única referencia a tomar en cuenta, ya que todo dependerá de nuestras necesidades específicas, de nuestro presupuesto y del paradigma tecnológico en el que nos encontremos.
Si tienes planeado un nuevo proyecto de TI y necesitas un asesoramiento personalizado a tu empresa, puedes contar nuestro servicios, llevamos más de 10 años colaborando con empresas como la tuya en el mundo de las tecnologías.
¡Somos Ingens Networks, la empresa líder… en tu corazón! Y si quieres trabajar con nosotros llámanos al 934226655 o mandanos un mail a info@ingens-networks.com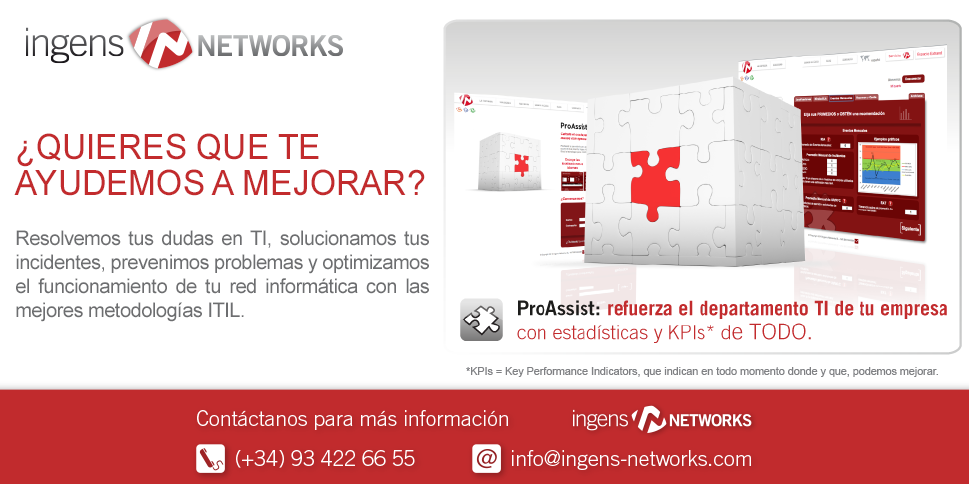 Música Creative Commons
Music: "Cherubs" by Josh Woodward
From the Free Music Archive
http://freemusicarchive.org/music/Josh_Woodward/Ashes/JoshWoodward-Ashes-02-Cherubs
Attribution 3.0 Unported (CC BY 3.0)
Music: "Evolution (Instrumental Version)" by Josh Woodward
From the Free Music Archive
http://freemusicarchive.org/music/Josh_Woodward/The_Beautiful_Machine/JoshWoodward-Evolution-NoVox
Attribution 4.0 International (CC BY 4.0)
Music: "Release (Instrumental Version)" by Josh Woodward
From the Free Music Archive
http://freemusicarchive.org/music/Josh_Woodward/Addressed_to_the_Stars_1995/JoshWoodward-Release-NoVox_1966
Attribution 4.0 International (CC BY 4.0)
Music: "Orbit (Instrumental Version)" by Josh Woodward
From the Free Music Archive
http://freemusicarchive.org/music/Josh_Woodward/Addressed_to_the_Stars_1995/JoshWoodward-Orbit-NoVox_1885
Attribution 4.0 International (CC BY 4.0)